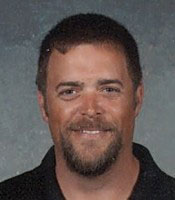 Owen Richard Williams,Jr., 37, of Kinston , passed away Thursday, July 19, 2012. Richard was born Oct. 29, 1974 in Lenoir County. Richard was the golf course Superintendent at Falling Creek Golf Course. He was President of the Eastern North Carolina Turf Grass Association, and was a member and Deacon of Wheat Swamp Christian Church.
Funeral services will be held Monday, July 23, 2012 at 11 a.m. from Wheat Swamp Christian Church with Rev. Hank Jarman officiating. Interment will follow at the Phillips Family Cemetery, Trenton, NC.
Richard is survived by his wife, Donna Phillips Williams; son, John Richard Williams, of the home; mother and stepfather, Faye and Lemuel Sutton Hardy of Kinston; father and stepmother, Owen, Sr. and Alice Faye Williams of Surf City; two stepdaughters, Cassidy and Sommer Willoughby; brother, Brian Williams of Sneads Ferry; sister, Angela Sutton and husband Scott of Snow Hill; grandmother, Hazel Hardy of Kinston ; nieces, Elizabeth Sutton and Jenna Steele; nephews, Ashley Sutton and Brody Steele; father and mother in-law, Don and Faye Phillips of Trenton; sister in-law, Amy Steele and husband Jeff of Kinston; along with several aunts, uncles and cousins.
The family will receive friends Sunday, from 4 – 6 p.m. at Rouse Funeral Home, and at other times at the home. In lieu of flowers the family asks that memorial contributions, be made to the John Richard Williams College Fund, c/o BB&T, Att: Sandra Byrd, 2009 West Vernon Avenue, Kinston, NC 28504.